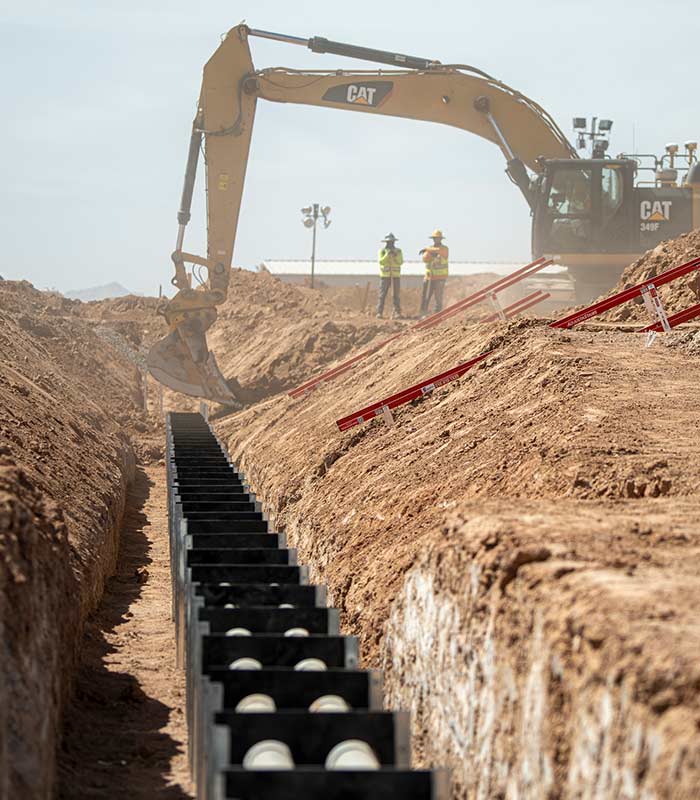 PROJECT OVERVIEW
---
Blount is working on a data center located in Mesa, Arizona. The project involves a hefty amount of earthwork, civil work, and underground utilities.

Over 1 million tons of dirt are being moved on the project, in addition to a massive amount of underground work to install wet utilities, fiber lines, power lines, medium-voltage lines, and gas lines. Blount is also working on stormwater management throughout the area.

The logistics of a job this size are challenging. An entire support structure has been put into place to help with the project: building a mobile batch plant, offices, and infrastructure to support the construction of the building.
Market
Industrial/Energy
Type of Project
Mass Excavation, Site Work
Scoped Performance
Mass Excavation, Earthwork, Soil Retention, Foundation Drilling, Asphalt Paving, Underground Utilities
Completion Date
2024
Contact Us
We would love to talk with you.
If you're ready to start a new project, learn more about what we do, or would like to make a general inquiry about Blount Contracting, please be sure to contact us. We'd love to hear how we can help you.
(480) 985-2112
info@blountco.com
1353 S Vista Rd
Apache Junction, AZ 85119
(801) 802-6800
https://wwclyde.net
869 North 1500 West
Orem, Utah 84057